Important Parking Information
As of January 20, 2020, a portion of the Lucie Stern Theater parking lot accessible from Hopkins Ave. has been reopened. The remainder is closed to all but construction traffic. Handicap accessible parking spaces at the Lucie Stern Community Center can be found on Melville Ave. and Harriet St. For patrons with mobility issues, we recommend using the drop-off area at the front of the Lucie Stern Community Center, at the corner of Middlefield Rd and Melville Ave. We advise allowing at least an extra 20 minutes to park and walk inside the theater. Please also consider carpooling or services like Lyft and Uber.
Alternate Parking Locations
You may need to use street parking. In addition, our friendly neighbors at Walter Hays Elementary School (1525 Middlefield Rd) and Trinity Lutheran Church (1295 Middlefield Rd), both a very short walk to the Lucie Stern, have kindly opened their parking lots to us. For a helpful map of the theater and its surrounding areas, please see the handy map below. Yellow highlights the Community Center drop-off area. Blue highlights some nearby street parking; please be mindful of driveways on the residential streets surrounding the Community Center. The closed part of the Community Center parking lot is highlighted in red. Purple highlights the open portion of the Community Center lot, along with the Trinity Lutheran and Walter Hays lots.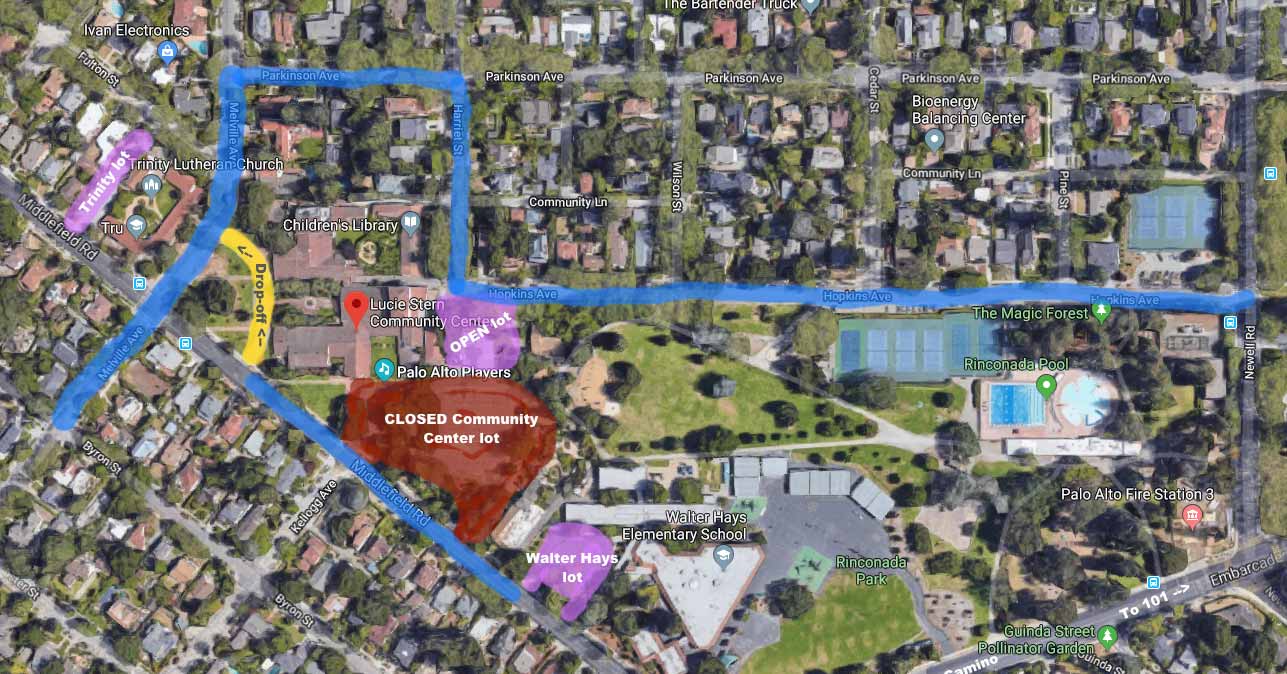 Parking & Directions
There is free parking near the theater. Our address is Lucie Stern Community Center, 1305 Middlefield Rd, Palo Alto, CA 94301.
Performance Venue And Offices
All of our performances take place in the Lucie Stern Theater, built for us in 1933. The address is: 1305 Middlefield Road, Palo Alto. Our administrative offices, including our daytime box office, are also located at the theater; patrons can find us by ringing the bell at the single door to the right of the theater's main doors.
Alternative Transportation
We encourage the use of ridesharing services, bicycles and carpools! For our matinees, VTA Bus 35 is also a great option.