AUDITIONS FOR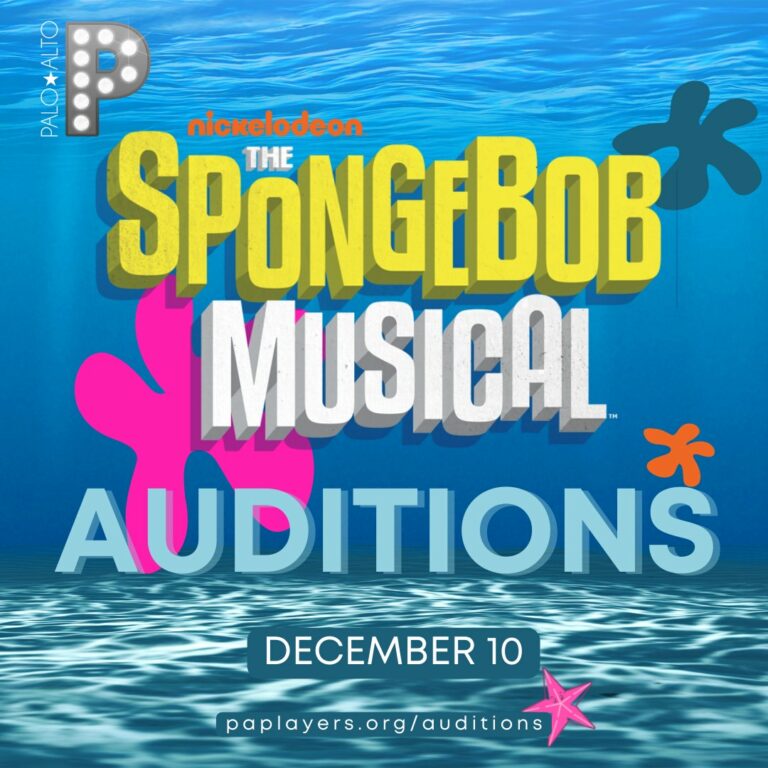 PERFORMS April 28 –  May 14, 2023
REHEARSALS: Begin on or near February 7, 2023
Based on the Series By STEPHEN HILLENBURG
Book by KYLE JARROW
Directed by PATRICK KLEIN
Choreographed by STACEY REED
Vocal Direction by ASA STERN
Music Direction by RICHARD HALL
ABOUT THE SHOW: 
Vibrant sets and costumes. Eclectic music by today's top artists. An erupting underwater volcano. A brilliant talking squirrel from Texas. And an ever-optimistic walking, talking, singing and dancing yellow sea sponge. THE SPONGEBOB MUSICAL checks every box one wants in a Drama Desk and Outer Critics Circle Best Musical award winner! While young (and slightly less young) fans of the animated series will delight in recognizing their favorite characters from the most popular animated series of the 2000's reveling in their crazy antics, the musical's creative team took great care to infuse the show with thematic elements and humor specifically targeting adult theatre-goers. It's a blow out in Bikini Bottom, and everyone's invited!
REHEARSAL INFO:
Full Cast Rehearsals are planned for weeknight evenings and one weekend (day or evening). Performances will be live with an in person audience.
Please NOTE: there is the possibility that Thursday evening, Saturday matinee, or Sunday evening performances may be added to the run of this show (this will be determined closer to the performance dates, but please include conflict information for all eventualities).
AUDITION INFO:
Please prepare a one minute song selection either from, or in the style of the show, that shows off your vocal and acting capabilities. Please provide sheet music for our accompanist that is roughly a 1 minute cut of music showcasing your vocal ability.
Please arrive in shoes and apparel you are comfortable moving in. (There is a required movement call with two available time options). Please no open toed shoes or movement-restrictive garments.
Initial Audition Day Schedule:
10:00am – 12:00pm (noon) – Vocal Appointments (GROUP 1)
12:00-12:45 pm (MOVEMENT CALL) *Mandatory* 
12:45 – 2:15 pm – Vocal Appointments (GROUP 2)
2:15 – 3:00pm  (MOVEMENT CALL) *Mandatory*
-All auditionees must present their prepared vocal piece and attend 1 of the 2 movement calls.
If you can not attend either of the Audition dates, please send a video submission via the Casting Manager Platform by December 9th.
Please click the link below to video submit or select an appointment time
Initial Auditions 
Saturday, December 10th, 10:00 AM -3:00 PM
Callbacks
Saturday, December 17th, 11:00 AM-5:00 PM
SUBMISSION INSTRUCTIONS:
After following the link above; under "ACTORS" click  LOGIN or SIGN UP

Create a Casting Manager Actor Account by creating your own unique login

Upload a profile photo (headshot) and be sure to add your resume

Under the "AUDITIONS" menu select "Schedule Audition"  (note at times if you are new to the site it is often simpler to re-navigate to the PAP auditions page, and re-click the link in order to get in to the scheduling page)

Select "Pick a Time Slot" for your appointment 

Select which role(s) you would like to be considered for

You will need to add your phone number and we request that you list any conflicts in the space provided 

When complete press "APPLY" to confirm your audition appointment
NOTE:

If submitting via video, your audition will need to be uploaded and sent via a YouTube or other accessible URL link in order for our casting team to view.
NOTE ABOUT CASTING
This is a non-AEA production. Per diem offered to Adult Actors to offset expenses.
As part of our commitment to become a more IDEAL community theatre (Inclusion, Diversity, Equity, Access, and Liberation), Palo Alto Players is looking for strong representation of BIPOC artists and artists of other underrepresented identities in our productions. We see diversity in casting and production staffing (colorful and identity-conscious) as the key to true equity. We are not looking to focus our storytelling on one cultural identity or another, but rather focus on telling a season of stories (old and new) with artists as diverse as our community. This means ensuring our audiences the opportunity to see people whom they identify with both on our stage and behind the scenes.
If you have any questions or concerns please write Production Stage Manager Lauren Howry at [email protected]
Sign up for our Auditions Email List:
Once you have been added (if you are new to our system) you will receive an email from [email protected] saying you now have an account with us. Please note, this is not an automated process and may occur a while after you have input your information below. Thank you for your understanding.