AUDITIONS FOR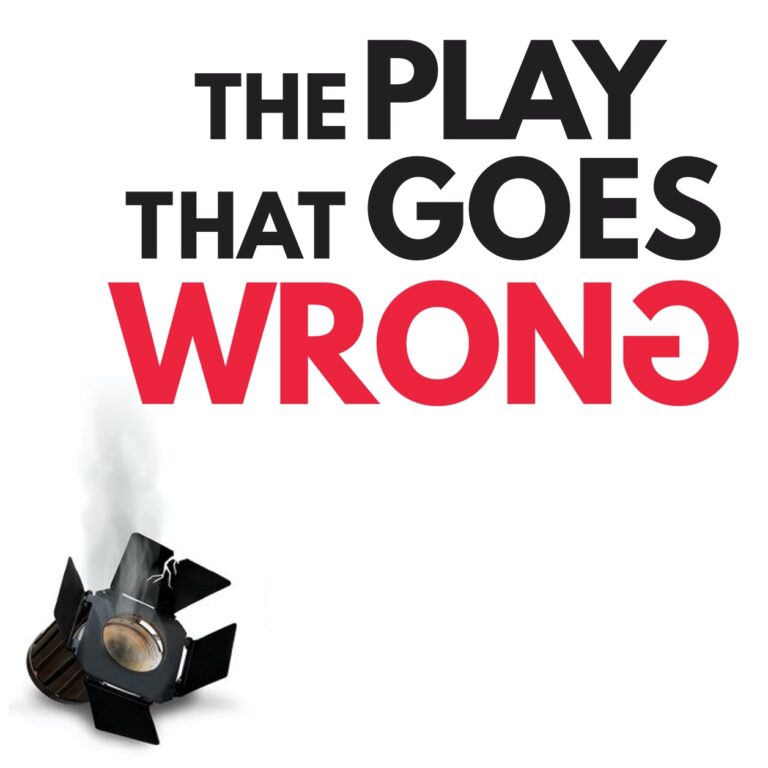 THE PLAY THAT GOES WRONG
PERFORMS January 20 – February 5, 2023
REHEARSALS BEGIN on or near November 22, 2022
Directed by KATIE O'BRYON CHAMPLIN

ABOUT THE SHOW: 
What would happen if Sherlock Holmes and Monty Python had an illegitimate Broadway baby? You'd get THE PLAY THAT GOES WRONG, Broadway & London's award-winning smash comedy! Called "a gut-busting hit" (The New York Times) and "the funniest play Broadway has ever seen" (HuffPost), this classic murder mystery is chock-full of mishaps and madcap mania delivering "a riotous explosion of comedy" (Daily Beast).
Welcome to opening night of The Murder at Haversham Manor where things are quickly going from bad to utterly disastrous. With an unconscious leading lady, a corpse that can't play dead, and actors who trip over everything (including their lines), it's "tons of fun for all ages" (HuffPost) and "comic gold" (Variety) – sure to bring down the house!
REHEARSAL INFO:
Full Cast Rehearsals are planned for weeknight evenings and one weekend (daytime). Performances will be live with an in person audience. The first Paid Preview is Jan. 20, 2023; Opening Night is Jan. 21 and the show is currently scheduled to run 9 performances over the course of three weekends (**Please see note below for potential to change**).
Please NOTE: there is the possibility that Thursday evening, Saturday matinee, or Sunday evening performances may be added to the run of this show (this will be determined closer to the performance dates, but please include conflict information for all eventualities).
AUDITION INFO:

Please prepare a one minute monologue of any style (comedic, dramatic, classical). Craft a moment within your performance where something goes wrong. (This moment does not factor into the one minute time limit) Whatever goes wrong is up to you—it could be verbal, but physicality is encouraged. Feel free to bring a prop, use a piece of costume or your clothing, or the space around you. How does your character handle the "thing that goes wrong", and get back on track to finish the piece?
PLEASE NOTE: This show is anticipated to be extremely physically demanding. In the Casting Manager site we include a question to let us know if there are any mobility limitations you have that we should be mindful of and keep in mind.
If you can not attend either of the Audition dates, please send a video submission via the Casting Manager Platform by September 23rd.
CLICK HERE to book your audition appointment, or to submit your video audition.
Initial Auditions 
Saturday, September 24 (12:00 PM-5:00 PM)
Callbacks
Saturday, October 1 2022 (12:00 PM – 3:00 PM)
SUBMISSION INSTRUCTIONS:
After following the link above; under "ACTORS" click  LOGIN or SIGN UP

Create a Casting Manager Actor Account by creating your own unique login

Upload a profile photo (headshot) and be sure to add your resume

Under the "AUDITIONS" menu select "Schedule Audition"  (note at times if you are new to the site it is often simpler to re-navigate to the PAP auditions page, and re-click the link in order to get in to the scheduling page)

Select "Pick a Time Slot" for your appointment 

Select which role(s) you would like to be considered for

You will need to add your phone number and we request that you list any conflicts in the space provided 

When complete press "APPLY" to confirm your audition appointment
NOTE:

If submitting via video, your audition will need to be uploaded and sent via a YouTube or other accessible URL link in order for our casting team to view.
NOTE ABOUT CASTING
This is a non-AEA production. Per diem offered to Adult Actors to offset expenses.
As part of our commitment to become a more IDEAL community theatre (Inclusion, Diversity, Equity, Access, and Liberation), Palo Alto Players is looking for strong representation of BIPOC artists and artists of other underrepresented identities in our productions. We see diversity in casting and production staffing (colorful and identity-conscious) as the key to true equity. We are not looking to focus our storytelling on one cultural identity or another, but rather focus on telling a season of stories (old and new) with artists as diverse as our community. This means ensuring our audiences the opportunity to see people whom they identify with both on our stage and behind the scenes.
If you have any questions or concerns please write Production Stage Manager Lauren Howry at [email protected].
Sign up for our Auditions Email List:
Once you have been added (if you are new to our system) you will receive an email from [email protected] saying you now have an account with us. Please note, this is not an automated process and may occur a while after you have input your information below. Thank you for your understanding.